Description
'Empowering heart-centered women since 2005'
~ Igniting Shaktis on Fire ~



BRAVO!
Welcome my brave Shakti.
Shakti means goddess in Hindu and it symbolizes power.
I am so thrilled that you are here, ready to spread your glorious wings and fly!
That means you are thinking of
Igniting your Shakti on Fire,

Activating your natural gifts as a woman and

Reclaiming the kick ass life you are destined for.
Hell yeah!
~~~~~~~~~
"Joy helped me to become a more confident person.

She also equips me with the required skills
and support to achieve my desired outcomes.
She is genuinely concerned and interested in her clients
and definitely goes the extra mile to support them."
– Trina Wong
(April 2016)
If you believe
You are more than just your mind, or your body

You can do more with the natural intuition you are born with as a woman

You can have more joy and PL@Y! in your life

You can manifest your true power by owning your authentic self
It's playtime! 🙂

For Shakti Ablaze, you will get –
– 12 (1.5hrs) coaching sessions
– Free copy of my latest book, From Zero to Shakti (eBook) worth US$4.99

– Free 7 Days Self Compassion Challenge (eCourse format) worth US$25

– Free Let's Step! Goal Setting Program (eCourse) worth US$99

– DiSC Psychometric Profiling and Debrief at half price
(Not included in package price, retailing at US$120)

BONUSES WORTH UP TO US$190
_______________

"My dearest Joy,
thank you for making me into a beautiful phoenix
when I most needed a change.
You are one of the most amazing woman I know
who would want to make another woman feel empowered and beautiful
regardless of age or size.
– Charlotte Lee (May 2013)
COACHING PACKAGES
Check out all the coaching packages here –

| | | | |
| --- | --- | --- | --- |
| | SHAKTI BABY | SHAKTI ABLAZE | KICK ASS SHAKTI |
| NO. OF SESSIONS | 1 (1.5hrs) | 12 (1.5hrs) | 12 (1.5hours) AND |
| SPECIALS | | | 1 Kick Ass Jumpstart Session (1.5hrs) |
| | | | 6 Weekly Check In Calls (20mins) |
| BONUSES | | | |
| – FROM ZERO TO SHAKTI EBOOK (US$4.99) | ✓ | ✓ | ✓ |
| | | | |
| – 7 DAYS SELF COMPASSION CHALLENGE (US$25) | ✓ | ✓ | ✓ |
| – DiSC PROFILING/DEBRIEF (US$120) | | | ✓ |
| – LET'S STEP! GOAL SETTING PROGRAM (US$99) | | ✓ | ✓ |
| HALF PRICE DiSC PROFILING FOR YOU | | ✓ | |
| HALF PRICE DiSC PROFILING FOR ANOTHER PERSON | | | ✓ |
| FREE 20 MINS COACHING FOR ANOTHER PERSON | | | ✓ |
| | | | |
| VALID FOR | 9 MONTHS | 9 MONTHS | 9 MONTHS |
| INVESTMENT (US$) | 140 | 1,440 | 1,745 |
Note –
These sessions can be conducted via Skype, Facetime or face to face in Singapore.
If you want to do a package (Shakti Ablaze/Kick Ass Shakti) after you finished your Shakti Baby session, you have a top up option for 7 days. 🙂
You can purchase it as a gift for someone.
All packages are valid for 9 months from the date of purchase.
OUR COACHING PROCESS

CLEAR —> CLARIFY –> CELEBRATE!
1. CLEAR
First, we clear the blockages trapped in your body, your mind, your spirit and in your energy force ('qi'). No amount of planning serves any purpose if you do not first clear the obstacles in your way.
2. CLARIFY
Next, we clarify and confirm your intentions.
We also examine what self limiting beliefs you might have that is hindering you or what 'masks' that you have been wearing to protect yourself.
Then we explore what options are available for you
To expend your focused effort
For the best possibility to reach your desired outcomes.
3. CELEBRATE!
Having cleared your path, declared your intention and established the right course of action for your goals, it is time to celebrate and express your victorious path with your beautiful goddess body.
~~~~~~~~~~~~~~
"Joy has helped me to build my confidence.
She brings out the unexplored outer beauty in me
and urges me to find the inner beauty by myself."
– Christine Lim
(March 2012)
EACH SESSION CONSISTS OF

1. BREATH WORK/MEDITATION/INTENTION SETTING
Using breathwork to ground you into the present before we start our session together.
Using meditation to channel your focus into the intention for the coaching session.
2. MIND MAP COACHING (WHOLE BRAIN CONVERSATION)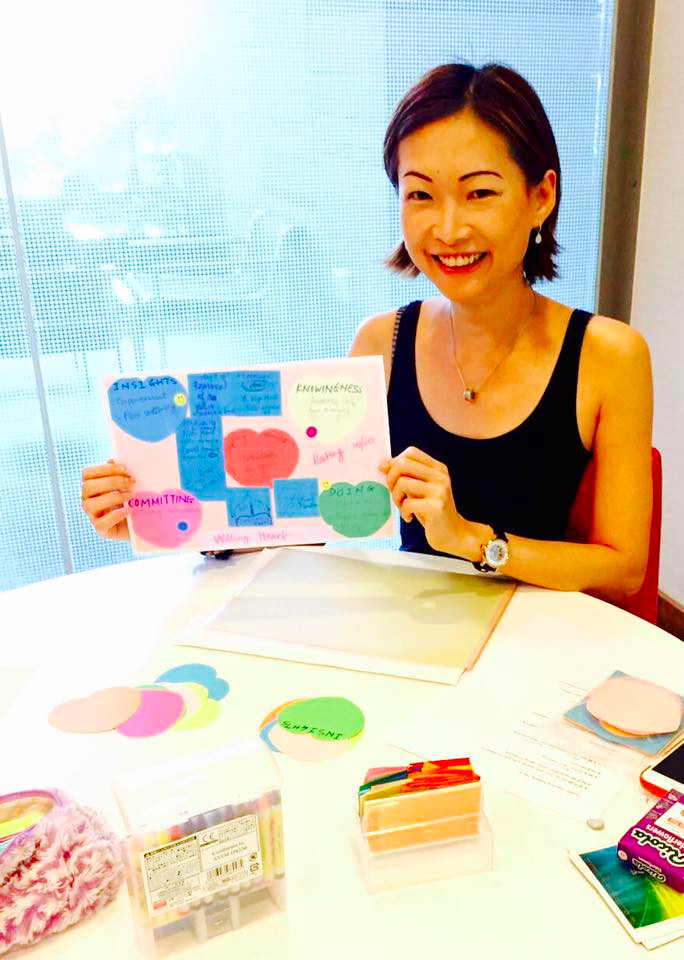 Using my training from my psychology degree and as an International Coach Federation coach,
We will have a fun, yet meaning session
Using colours and our conversation,
To create a masterpiece of our conversation
We will focus on –
The goal for our coaching time together ,
Challenge your thought processes and
Clarify your highest values
Establish what action needs to be taken
Propel you towards your desired outcomes.
3. MOVEMENT GROUNDING
Being one of the first to start a pole dancing studio in Singapore in 2005, I have seen and experienced personally, the power of movement as a potent self-revitalizing tool.
While intellectually, you may have engaged in the conversation, and logically came to your conclusions, these precious insights are not grounded in your body .
Mentally you 'get' it, but your body don't.
Ever 'understood' something and yet, did not feel it or lost motivation for it afterwards?
Hence, we need to involve your physical being, into the coaching conversation.
This ensures that the insights, the commitment and the inspired action are now in complete alignment with your entire being.
That's when true personal Shaktihappens.
We will use your natural movement
To celebrate the awakening of your Shakti-self and
To ensure that what you have explored during the coaching session is also acknowledged and affirmed by your body.
To cements your body*mind*spirit alignment to your goals.
P.s. NO dancing experienced required. Your body will surprise you how it comes alive. Stay receptive. 🙂
"I was immediately struck by Joy's vibrant energy.
She is a compassionate person with a quick mind,
and I found her coaching to be skillful and intuitive.
If you ever need coaching, I would recommend you see her:
not only will she help sort you out,
she will be your cheerleader every step of the way!"
– Rimi Yoshida
(March 2016)